New from Carmarthen Demolition Ltd we now offer a range of garden and house furniture using, you guessed it, reclaimed wooden railway sleepers. This page is under construction but will be ready by the end of March 2020 so please come back around that time thank you.
Rustic Wooden Bench
Sealed French Oak built to last.
Approx 4.3 ft x 16 inches wide, 17 inches high
Great for indoors and outdoors.
Please Call, This email address is being protected from spambots. You need JavaScript enabled to view it. or Facebook us


for ordering and pricing details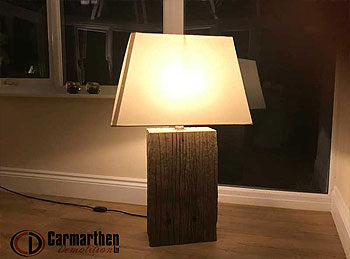 Wooden Lamp
Jarrah Wood Sleeper lamp
Approx 12 inches x 5 inches
This is a screw lightbulb fitting
Please Call, This email address is being protected from spambots. You need JavaScript enabled to view it. or Facebook us


for ordering and pricing details
Rustic Wooden Table
Jarrah Wood Coffee table
Approx 4.3ft
Please Call, This email address is being protected from spambots. You need JavaScript enabled to view it. or Facebook us


for ordering and pricing details
Round Slate Table
1-meter diameter
700 mm High
Suitable for indoor and outdoor
Please Call, This email address is being protected from spambots. You need JavaScript enabled to view it. or Facebook us


for ordering and pricing details
Oak Mantlepiece
Up to 8.4ft length available
Shaped and cut to your specification
Please Call, This email address is being protected from spambots. You need JavaScript enabled to view it. or Facebook us


for ordering and pricing details

Rustic Jarrah Bench
Details to follow
Please Call, This email address is being protected from spambots. You need JavaScript enabled to view it. or Facebook us
for ordering and pricing details
Rustic Plant Pots
Details to follow
Please Call, This email address is being protected from spambots. You need JavaScript enabled to view it. or Facebook us
for ordering and pricing details
Rustic Bench
Details to follow
Please Call, This email address is being protected from spambots. You need JavaScript enabled to view it. or Facebook us
for ordering and pricing details
Rustic Wooden Bar Seat
Details to follow
Please Call, This email address is being protected from spambots. You need JavaScript enabled to view it. or Facebook us
for ordering and pricing details
Large Pots
Details to follow
Please Call, This email address is being protected from spambots. You need JavaScript enabled to view it., or Facebook us
for ordering and pricing details
---
Below you can see our NEW range of Concrete garden ornaments to really add some style to your garden. Please Call, This email address is being protected from spambots. You need JavaScript enabled to view it., or Facebook us
for ordering and pricing details